Saturday, August 20, 2005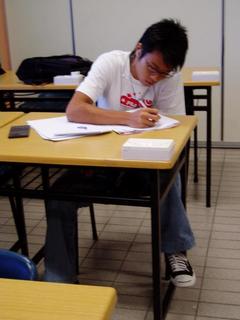 hello peeps. How ya all doing?? Well i suppose.
Its been a quite awhile ever since i last blog huh? Sorry?
aha, there's an old saying that says " late better then never" am i right? haha.
Well, recently had been real busy due to the ending of a my first sem in NgeeAnn. The usual routine that my life has been adapted to it leh. Projects , testes, tutoral homework are jus daily meals. Well, help me! I need 48 hours a day. Or more, if possible. =D
birthdays on this week are wenjun's and Ms leong. Happy birthday to both of you. =)
Some of us are born with a candle above your head, light that help you cross certain things in life which leaves you no trouble at all.
But some of us are born with empty darkness. You can tell it, if you are living in a world of your own, a thinking of your own. Total darkness, totally blinded.
Which you walk the path of life with many scars down your body. So we often move ahead despite of darkness and often get hurt along the way ..
Don't you ever wished you were someone else? aha.
think of the good times in life too, i'm very sure, there are some parts of ya life there are UPs. May not be alot but sufficent to carry along with life.
When in certain parts of your life, you can feel yourself being at the lowest point, cheer up ! damn it. Cos after being DOWN, UP is next coming up! =D
And people, don't you think life is fucking short? Why can't you all live happily as much as possible? I mean, at least try to lar!
You often see people passed by, right across your very eyes and flew to the great GODS above and did u ever asked yourself, when is your turn? heh.
Dun often get taunted by the past jus because it sucks to the core, grow up, live for the present and to the fullest, if u don't know how, go ahead.. ask me! I will lead u along into my Life, my world, my story, my beginning.
Soon will be taking my bike lessons and saving money for a bike. I jus dislike public transport! Hate squeezing and q-ing up for a place and watch people looking at each other like jerks. Tsk.
You said empty promises, you said lies, you said lame, you said craps.
jus wanna tell you that, all those craps etc, are true =)
Last but not least, today's question of the day!
Can Gers and Guys be good pals/friends/buddies? Without falling in Love with each other?
think about it, and reply me and lets discuss it in the next post.
Good nite folks. Time for bed, tml going down parade.
p/s: dine, dun feel sad k! I'm jus a phone call away.. :)
! - Don't the music drown you out ?