Wednesday, March 22, 2006

Dont you sometimes think that life getting a little bored ? That maybe something else is missing in your life and you just don't know wadsoever is the THING missing ? Life just seem meaningless after some time , don't you guys ever think so ?

sighhh. Thats how no life i am now ! Work work ! Sounds like some gobblin. ahhh.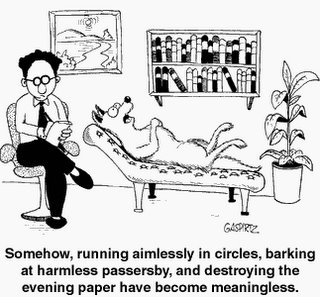 And facing the computer 10hours a day during work and seeing all words and words and words and nothing but words! Its more stressful than watching porn 49hours a day! Just that day, after lunch , i made my way to the unisex washroom at level 1 and my eyes hurt so much that i could see properly and wipe my wet hands on the lady's white skirt that's in front of me. And to think she didnt believe me thinking i would want to upskirt her. Oh my ass , i would give her a mirror anytime on anyday she proclaim as her birthday!
yaaa man! She so "er xin" still think i wan to touch her ah? Dream on! Then at work , there's this big mouth Auntie which guoce always call her. She look so horny , and that cheeky smile she gives to me and guoce, feel like slapping her in the dick , if she got lar. Maybe she's brokeback. She looks like a shark circling her prey and acting and waiting to pounce on us like that. Something like ... hmmm...
Or just like putting a mouse trap trying to lure us and trap us then later maybe rape us. Most prob , will rape guoce bahhh, cos i always stay 5metres away from her! And she always tend to shout across the whole office.. she would go : " GUOCEEEeeeeee...." ahaha. the guoce , will say :"cheebye , big mouth calling".
Well , you must be wondering how she really looks like, i think i took a picture of her today in the office. Neat shot , she facing me and didnt realised it. hehh. She look jus like some potato lar. Darn three eight !
In short , the people i got at work is jus weird , very ! Super ! Even Guoce seems more normal than them please! And guoce sms me last night told me to inform HR that he got bird flu today. So i did , and HR said that he need not come back already. heard that , bitch ? : D
And my boss keep asking me to backup EVERYTHING thing. I wonder wads wrong with him man! Everything is alright , but everyday ? SIAO ! I guess if you were to go pay him a visit in his house , you could only find backups and only backups! :D
I'm shag , worn out , tired ! Goodness me ! Getting so brokeback nowadays , or isit jus my fucking computer that's slowing down , getting old and pissing me off and making me tired ? hmm, maybe. anyway , time for bed. Not posting any pictures in this post of mine , too tired to wait and do so many things. Sorry folks ! Someother time !
I'm getting old , keep forgetting about things and stuffs and cant be able to relax and getting to tense up!

JUNHAO - says:
baby
JUNHAO - says:
is ballet a good sport to relax ?
: D - says:
whyyy?
: D - says:
not really
JUNHAO - says:
Then good for wad?
: D - says:
good for.. learning french. heh
JUNHAO - says:
.
: D - says:
heh. other than that.. quite goodless, why eh
: D - says:
can be flex too, but less then gym
JUNHAO - says:
icic.
: D - says:
ohoh !
: D - says:
can improve memory too
JUNHAO - says:
lol.
: D - says:
seriously
: D - says:
lar!
That's it .. i'm learning ballet !
! - Don't the music drown you out ?